Looking for new items to add to your self-care routine? I've scoured Amazon for the most practical self-care products out right now that will most definitely improve your life! Self-care is the best care so treat yourself to one (or a few) of the self-care products below!
Pamper yourself at home with a spa night, take some time out of your day to journal or light a candle and relax! Practicing self-care is all about making time for yourself because you should be a priority in your life. I'm all about usefulness, so these products are all practical self-care products you can find on Amazon.
This article contains affiliate links. I may receive a commission at no cost to you! Read my disclosure for more information.
---
1. An ice roller to help decrease puffy eyes, minimize fine lines, lessen headaches and improve dry skin! Perfect gadget for an at-home spa night!
Get it on Amazon for $16.99
2. This aromatherapy lotion and body wash set from Bath & Body Works. I have one of these scents myself and love using it right before bed. It is incredibly soothing!
Get it on Amazon for $23.59
3. An aesthetically-pleasing oil diffuser to make any room of your house smell amazing. Upgrade the ambiance of your living room or bedroom with this classy diffuser – featuring 7 LED light options!
Get it on Amazon for $29.99
5. Some delicious-smelling essential oils to use in your fancy diffuser! Check out this brand that has some unique scents! Who wouldn't want their room to smell like blueberry pancakes??
Get in on Amazon for $16.95
6. A bottle of calming bath salts to enhance your time in the bath. These bath salts are absolutely gorgeous and mix sea salt, essential oils, and french pink soak for a calming soak. You deserve them, girl!
Get it on Amazon for $18.00
7. Banish all negative vibes with this elegant purification candle! It is said to cleanse spaces, create positive energy and smells great too! Moving into a new place? Bad day at work? Broke up with your boyfriend? Burn this candle!
Get it on Amazon for $16.99
8. A face mask as black as my soul. Lol jk! But seriously this dead sea mud mask purifies your skin, cleans pores, helps with acne AND works on all types of skin. Plus you'll feel like a fancy bit*h with it on, so I'm in!
Get it on Amazon for $14.95
9. A setting spray to keep your makeup on point all day long. There's nothing worse than getting your makeup on someone's clothes when you go in for a hug! Let's avoid that and make your makeup transfer-proof.
Get it on Amazon for $8.97
10. A coconut milk bath soak to make your dry skin feel luxurious. Pamper yourself like the queen you are with this 100% vegan bath soak.
Get it on Amazon for $22+ (available in 2 sizes)
11. This easy nail polish remover that makes taking off your polish a breeze! Ditch the cotton balls and simply swish your fingernail around on the sponge. Bonus points! It has Vitamin E & aloe to add some moisture to those nail beds!
Get it on Amazon for $6.09
12. Fight puffy eyes with this 24K gold eye treatment that will have you feeling like royalty. They are also formulated with collagen to stimulate your skin and hyaluronic acid to hydrate your skin. These 24K patches help with dark undereye circles so we won't be able to tell you aren't sleeping enough!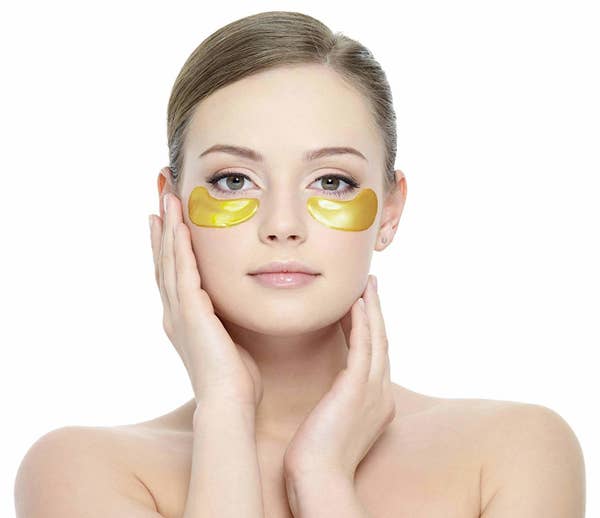 Get it on Amazon for $19.97
13. Add this fun bubble mask to your self-care routine! It hydrates your skin, eliminates blackheads and rejuvenates your pores. Plus, the bubbles make for a cute Insta self-care selfie!
Get it on Amazon for $9.99
14. Upgrade your water with this fruit infusion pitcher that will make your water taste 100x better! If you're not a fan of plain water, this pitcher will make getting your daily cups in more bearable! Trust me on this one…infuse some cucumber and mint leaves! *chef's kiss*
Get it on Amazon for $19.99
15. Get adventurous with your tea and try Wize Monkey Coffee Leaf Tea. It's a tea made from coffee leaves (not the beans!) This tea is handpicked, filled with antioxidants and brewed in a biodegradable bag. LOVE!
Get the 15-count box on Amazon for $9.99
16. Read The Stress-Proof Brain to learn how to manage your stress better! Stop letting work, relationships or other people completely ruin your day by learning to control your emotional responses. Read this book as you relax with your tea!
Get it on Amazon for $14.75
17. Practice mindfulness with these Empower Yourself Exercise Cards! The pack comes with 50 cards with a thought-provoking question that will help you be more self-aware!
Get in on Amazon for $14.95
18. Take care of your hands and feet with this moisturizing gloves and socks set. They are infused with vitamin E, grapeseed oil and olive oil to make your hands and feet baby soft!
Get it on Amazon for $16.99
19. Get into yoga or mix up your current yoga workout with these yoga dice! It's super important to get some exercise especially now when we are moving less at home.
Get it on Amazon for $15.65
20. This Nubian Heritage Lotion made with unrefined African shea butter to give your skin that moisturized glow! It apparently smells great and is super nourishing!
Get it from Amazon for $12.45
21. Boost your creative energy with Happy Journal Happy Life! Take 10 minutes out of your day to give yourself a little burst of happiness! Journaling is a great practice to get into every day!
Get on Amazon for $14.99
22. This super cute & tranquil Chesapeake Bay Candle that purposes to bring harmony and balance into your life. Its relaxing scent features notes of water lily, orange, sandalwood, and tropical fruits.
Get it on Amazon for $14.99
23. And last but not least this adorable koala robe to keep you feeling cozy! I have a similar one and I practically live in it! It makes you feel super cute even when you haven't left the house the whole day.
Get it on Amazon for $29.99
There ya go, folks! A list of my favorite practical self-care products! Remember to practice self-care on the daily because you freakin' work hard and deserve it!
Chase your glow!
Kay